Amalgam and the Bay County Health Department will be embarking on a first of its kind mapping project in the state of Michigan and possibly nationally. The project, Kawkawlin River Watershed Mapping and Education Outreach Project, is a grant funded effort to develop a location-based, digital inventory of onsite wastewater systems, which will be used in combination with educational outreach to improve awareness and understanding of septic systems and their impact to the watershed.
Amalgam's role in the project is to develop the location-based septic system inventory by mapping all systems in the Kawkawlin River watershed. Mapping will also include data collection to capture system information, such as tank size, drain field type, install date, soil borings and more. Development of the location-based inventory will be conducted using Amalgam's FetchEH software, which is currently used by the Bay County Health Department.
Using Location to Understand More
The resulting location-based, digital septic system inventory will provide a comprehensive look at septic systems, their health and potential impact to the Kawkawlin River Watershed. The benefits of a location-based inventory start with the very foundation of onsite wastewater management, which includes having an understanding of the inventory, like knowing how many systems are in the community and where they are, knowing how many properties are missing permits and where these properties are located, and simply gaining a visual understanding of the inventory as it relates to other features, like a watershed. These are valuable insights alone, but they are only the beginning.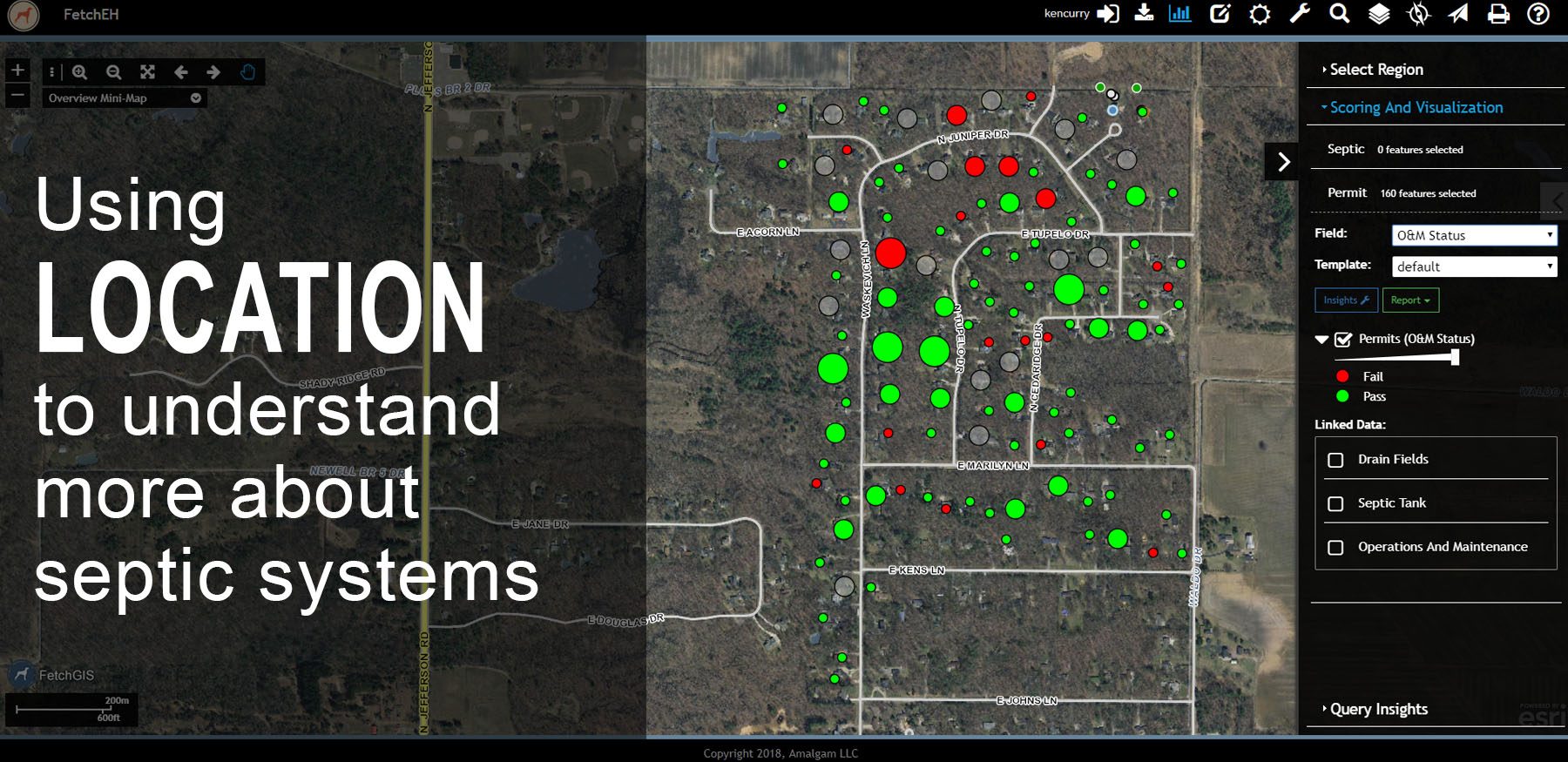 The inventory can also be used with FetchEH to gain operational efficiencies for existing workflows, track operations and maintenance of systems and to use septic system information as a management tool to gain deep insights about the inventory. These insights include using data visualizations and analysis tools that incorporate both location-based variables, such as system density or proximity to water, and system variables like age, type and size. Having a digital onsite inventory also improves access to information about septic systems to other regulators and agencies, homeowners, contractors, Realtors, lenders and more.
The project provides a great opportunity to understand more about septic systems from a new perspective, but at its core it is also a modernization effort. One that brings location squarely into managing septic system inventories, extending the value of system information beyond a transaction and records keeping, to turning that information into useful data and knowledge that can improve the health and water quality in our communities.
In many ways the project is similar to the first parcel mapping projects 20-25 years ago. These projects resulted in lessons that were learned, sharing of knowledge with others, processes that were improved upon and the recognition of value being clearly recognized over time. That is our goal here, to break ground, and to learn and share our experience with other regulators eager to modernize their own data, workflows and technology in a way that improves how they manage septic systems.
As we progress with the project we will post updates here in an effort to share what we learn.
To learn more about the project contact David Nichol or Ken Curry:
Ken Curry
ken.curry@amalgamonline.com
989.400.8702
Be sure to follow us on Twitter and LinkedIn for more updates!